Online round table "Public health systems' response to epidemiological threats in BRICS member states"
On June 29, 2020 First Online Round Table of Food and Healthcare working group, titled "Public health systems' response to epidemiological threats in BRICS member states" will be held within the Russia BRICS Chairmanship 2020.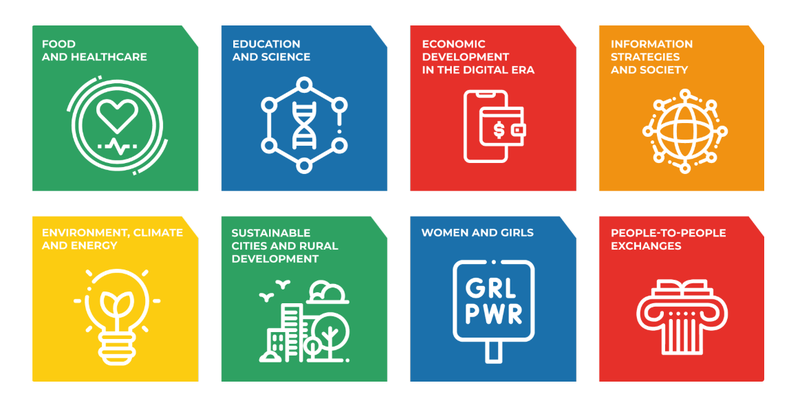 Time
9.30 – 11.00 AM (Brasilia)
3.30 – 5.00 PM (Moscow)
8.00 – 9.30 PM (New Delhi)
8.30 – 10.00 PM (Beijing)
2.30 – 4.00 PM (Pretoria)
The COVID-19 pandemic has revealed the ill-preparedness of most countries' healthcare systems for effective tackling and prevention of public health threats. Participants of the upcoming roundtables will discuss the issue from the following perspectives:
Biological safety. What are the measures to ensure an effective response to epidemics? How the international health regulations in the sphere of biological threat-prevention and antimicrobial infection risk-reduction should develop in the BRICS member states?
Medical statistics. Why is it a critical indicator of medical system preparedness? How is it related to the public health dimension? What is the role of WHO and other international institutions, instruments, and initiatives? What is the proper methodology to identify a potentially dangerous situation? What can be the BRICS common vision to come up with in other international platforms such as the G20?
Vaccination. What are the best practices in preventive vaccination among the G20 member states? How do the BRICS member states cooperate in drug and vaccine development? How the setting-up of a BRICS Vaccine Research and Development Centre can improve the cooperation in this sphere? What are the vaccine licensing rules within the five member states?
First round table will focus on not only brief-observe regarding the situation with COVID outbreak in BRICS-countries but also issues related to medicines, treatment and vaccination.

Key speakers:
Mr. Sergey Golovin, Head of Intellectual Property and Accessibility division at EECA Treatment Preparedness Coalition, Russian Federation
Ms. Kajal Bhardwaj, Independent expert on health and human rights, leader in the access to medicines movement, India
Mr. Pedro Villardi, Coordinator of Intellectual Property Working Group at Brazilian Interdisciplinary AIDS Association, Brazil
Ms. Guo Yan, Professor of the School of Public Health, researcher of the Public Health Research Center, Peking University, China
Representative of South African Red Cross, South Africa
Contact information:
If you have any queries please do not hesitate to contact us by e-mail stepan.kanakin@gmail.com (Mr. Stepan Kanakin)